A Forward Thinking King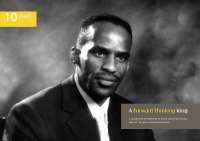 A collection of speeches by Kgosi Leruo Molotlegi, King of the Royal Bafokeng Nation

This collection of speeches and images commemorates the first ten years of Kgosi Leruo Molotlegi's reign as King of the Royal Bafokeng Nation. This book provides a selection of the most important speeches Kgosi Leruo has delivered in the space of a decade, in order to offer a glimpse of his leadership priorities, his passions, and the evolution in his thinking on several important issues. It is hoped that this volume will inspire some to learn more about the Royal Bafokeng Nation, and perhaps a few to join us on the path to becoming a Relevant and Innovative Traditional African Community.